Our Mission

To train children, both spiritually and academically, to be Christian Leaders for the Kingdom of God, and to support the institution of the family.
About
Faith Christian Academy is Whitley County's only interdenominational Christian school, providing excellence in education for children since 1991. Located at State Road 205 and US 30 in Columbia City, Indiana, Faith Christian Academy offers advanced, yet individualized curriculum for preschoolers through eighth grade. God in the classroom, dedicated educators, involved parents, smaller class sizes and specialized attention for each child mean a learning experience unsurpassed in Whitley County.
Christian school educators emphasize the worth of every child.
Christian school educators openly share the love of Christ with students. They point students toward the Savior of the world, not away from Him.
The opposite of Christ-centered education is man-centered education or humanism, declaring man instead of God as the authority for truth.
Christian schools attempt to inspire loyalty to the church.
Christian school educators attempt to inspire students to love their country and to have respect for civil government.
Christian school education equips students with basic academic skills with which to effectively apply themselves to live lives that are useful and productive.
Christian school educators are themselves important role models for students. Someone has said, "Ninety percent of what students ultimately retain from their education is what they learn from watching the lives of their teachers."
"Now, who can call 'Good Friday' good? – A term too oft misunderstood – You, who were bought by the blood of His cross, You can call 'Good Friday' good." –
Johnny Hart, the writer of the comic strip "B.C."
Make a Payment or Donate
If you have a child at Faith Christian Academy and you want to make a payment or if you want to make a donation, click the "Pay Now" button below and enter the amount.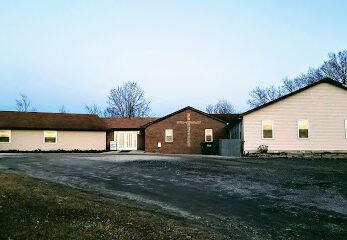 Help FCA by shopping at Kroger
– click images for more details.
Help FCA while shopping at Kroger!
If you're interested in helping FCA, please follow these instructions to get your Kroger Plus card connected to FCA.1. Log onto the
Kroger website
2. Go to the Savings and Rewards tab
3. Open Community Rewards
4. Our organization is
Faith Christian Academy
and our organization number is
WD520
Thank you for helping FCA, we sincerely appreciate it.
Testimonials
I like being here because this is a Christian community. The teachers teach very good Bible classes and other classes. The teachers are very nice, too. The principal is a nice pastor. The students may be few, but they are very friendly. Best of all I know God is here with us.
Current Student
When I first came to FCA I was scared because I didn't know what it would be like. On my first day of kindergarten it was hard work, but by the end I had many friends. I like FCA because we get to do fun stuff like reports and field trips. One time we went to Shipshewana and got to see the Hudson (car) Museum. Another time we got to do oral reports and I picked the Civil War.
Current Student
My son attended FCA, and has done very well in going on in school. He was 'not behind' the other students from the public schools – but was in fact ahead of them. FCA does a great job in educating our children – and teaching them about the lord Jesus Christ.
Parent of a former student
The teachers are wonderful. It's more like a family. All the children talk to each other (I mean outside of their grades). They are a great group of children. The teachers can meet the needs of individuals because of the small class sizes. Our child loves it there. I thought he would have a hard time but he has done very well. I wish he would've gone to FCA from the beginning. (Preschool) And every weekend is a three day weekend, we love that too. It's a wonderful school with wonderful people that work and volunteer there.
First year family
One of the biggest reasons we will continue to educate our children at Faith Christian Academy is the God and family-centered atmosphere. These children and teachers are entwined in each other's lives. They work hard together to learn, understand God's message, and support each other as family. We never worry about what our children are "learning or picking up" from other students at school. The environment at school is safe and conducive to learning.
Family with multi-children
We first decided to send our children to FCA because a Christian education for our children was very important to my husband, who attended Christian schools himself. We continued to send our children to FCA because we have been extremely pleased with the high-quality academic instruction our children have received, along with the care and commitment the teachers show to their students. The teachers see each student as a unique child of God with special gifts and talents, and they encourage students to grow and mature both academically and spiritually. As we have come to know the teachers, students, and parents in the FCA family, we have been very thankful for all of the wonderful friends we have made here, and for the opportunity our children have to attend a school with a Christian-based curriculum.
Multi-child family with multi-years in attendance
Sign up to join our Newsletter!

We'll keep you updated with the latest news and events happening at Faith Christian Academy.*After signing up, check your email to confirm your subscription.
Our Teachers and Staff
Faith Christian Academy strives to provide a great, faith based, affordable educational experience for families in Whitley County.
All of the teachers at FCA are state licensed and teach in the areas of their certification. In order to keep the tuition as reasonable as possible, tuition fees only cover teachers salaries (and then only if we have enough students). Therefore we have multiple fund raising activities during the year.

Robin Koller
(Middle School)
Mr. Roth has served as Principal of Faith Christian Academy since 2012. Prior to 2012 he worked as a principal and teacher in the public schools for 30 years. George and his wife Gail have two sons and 6 grandchildren. In his spare time George enjoys road biking, swimming and crossword puzzles.
Larry Schmoekel
(Administrator)
Shaina Hiatt
(Kindergarten)
Holly McDaniel
(1st and 2nd Grade)
Deb Selby
(3rd, 4th & 5th Grade)